26/04/2007
Bastard-Project & Slanted @ Typo Berlin
Friday 18th and Saturday 19th of May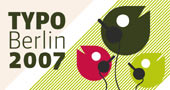 We will be in Berlin at Typo Berlin, presenting the Slanted Magazine (Issue #4 Grid/Matrix), our Instant-Gallery Caravan (just in front of the bcc Berliner Congress Center, Alexanderstr. 11) with a live performance and show on friday in the TYPOshow Auditorium. See you!

Freitag | 16:00 Uhr | TYPOshow
Instant Gallery on Tour
Ein Bastard Project, mit Lesung der Autorin Sudabeh Mohafez und aktuellen Arbeiten des Bastard-Projects von dem Fotografen Christian Ernst, dem Illustrator André Rösler und dem Designer Lars Harmsen. DJ Frank Wiedemann / Âme (Sonar Kollektiv) tritt live auf. Seit Februar 2007 sind die Autoren des Bastard Buches immer wieder on Tour, diesmal mit einem Wohnwagen welcher zu einer Galerie umgewandelt wurde. Auf dem Weg zur TYPO wurde auf zahlreichen Stationen Bilder von Menschen und Orten eingefangen und in einer Instant-Gallery präsentiert. Der Wohnwagen wird während der TYPO vor Ort sein.

Samstag | 15:00 Uhr | TYPOshow
Typografie, Magazine & Playlists
Magazine und deren Designs folgen bestimmten modischen Codes. Die visuellen Moden können sicherlich mit den musikalischen Moden der letzten Jahre verglichen werden. Die meisten Grafik- und auch Typedesigner verorten sich ja mit ihrer Arbeit und ihrem Musikgeschmack in den verschiedenen zeitgenössischen Feldern – Typografie, Magazine, Playlists.