03/04/2006
REVOLUTIONART
Publicates Spreads of our work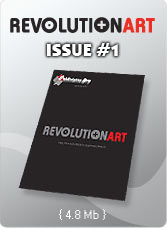 We are glad to be in the first issue of /revolutionart!!!

Just see the Download!


Publicistas.org is publishing REVOLUTIONART, an international magazine as a collective sample of the best of design and advertisement.

The objective of this magazine is the one to serve as a inspirational source to artists, advertisers, photographers, designers and communicators in general who wish to explore new alternatives of expression through graphical samples of design.

The magazine will be distributed freely in digital format through the web site of Publicistas.org and it'll be available for the users in format pdf to download.

The reach of the magazine is as ample as the origin of its participants and it will be in the conventional networks of distribution and underground of Internet (kazaa, emule, fileshare, distribution p2p, etc).

Once you have unloaded it, you can distribute it freely to show to the world the power of our revolution!

Everybody is invited to participate.