16/04/2007
translations 02 | Fernweh. Positionen zur Identität im Design
4. und 5. Mai 2007, Fachhochschule Mainz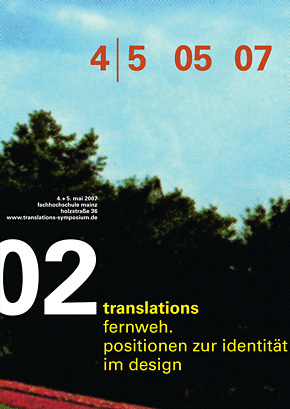 On Saturday 11th of Mai we are invited to present the Bastard-Project in Mainz, during the translation 02.

Lectures Friday, 04.05.07
09.30 Begrüßung durch Dr. Petra Eisele
10.00 Barbara Knorpp, London (GB)
11.00 Florian Pfeffer, Amsterdam (NL)
13.30 Erik Spiekermann, Berlin (D)
14.30 Thomas Manss, London (GB)
15.30 Filip Blasek, Prag (CZ)
16.30 Ruedi Baur, Zürich (CH)
18.00 bis 20.00 Bootsfahrt
21.00 TDC-Ausstellungs-Eröffnung
22.00 Party

Lectures Saturday, 05.05.07
10.00 Einführung durch Dr. Petra Eisele
10.30 Mark Terkessidis, Köln (D)
11.30 Bastard-project: Lars Harmsen, Christian Ernst, André Rösler und Ulrich Weiß, Karlsruhe (D)
12.30 Rodrigo Castaneda, London (GB)
15.00 Johannes Bergerhausen, Köln (D)
16.00 Vier5: Marco Fiedler und Achim Reichert, Paris (F)
16.30 K&K: Katharina Tietze, Zürich (CH) und Katharina Hohmann, Weimar (D)

Here the information about this event.
Unter dem Titel »Fernweh. Positionen zur Identität im Design« richtet translations 02 ein internationales Symposium aus, das sich mit gestalterischen Strategien von Identität und Differenz befasst. Mit Vorträgen, Diskussionen, Filmen, der "Kistenöffnung" und Preview des 53. TDC New York und einer rauschenden Party am Rhein feiert die Fachhochschule Mainz den erfolgreichen Start des neuen Bachelor-Studiengangs Kommunikationsdesign.
Der Studiengang Kommunikationsdesign befindet sich mit Einführung der neuen Bachelor- und Masterstudiengänge in einer Phase des Wandels, der Neuausrichtung und Internationalisierung. Wir erhoffen uns mit dem Diskurs über die Themengebiete neue Impulse für die Lehre und Praxis des Designs weit über Mainz hinaus. Referenten und Gäste u.a. aus den Niederlanden, Frankreich, Schweiz, Tschechien, Groß-Britannien, Deutschland und Österreich werden erwartet und Gäste wie Ruedi Baur, Erik Spiekermann, Florian Pfeffer, Vierfünf und Johannes Bergerhausen haben bereits zugesagt.


Drei Themenkomplexe sind für uns von besonderem Interesse:

Transfer zwischen Kulturen.
Kann es in einer globalisierten Welt überhaupt gelingen, eigenständige Identitäten auszubilden? Oder stellt die Sehnsucht nach Individualität, wie sie unsere westliche Kultur als Gesamtheit immer stärker prägt, nicht eigentlich ein Paradoxon dar – schlägt hier der Drang zur Individualisierung nicht letztlich doch in Uniformierung um? / Was bildet den Sand im Getriebe einer idealisiert gedachten globalen Kultur?

Transkript – von Sprache zu Schrift.
Können Begriffe wachsen? Wie verändern sich Bedeutungen im Laufe der Zeit? Und was passiert heute, wenn Begriffe künstlich generiert werden, um soziokulturelle Schlüsseltrends zu fassen? / Gestaltet dann das "Naming" der Trendforschung unsere Vorstellungen von Gegenwart und Zukunft?

Transport von Erinnerung.
Wie gestalten Bilder unsere eigene Erinnerung? Und konstruieren die Massenmedien tatsächlich unser Wissen um die Welt? / Sind wir heute schon dabei das "Echte" und Authentische zu verlieren und müssen wir uns deshalb auf die künstliche Gestaltung von Ersatzerlebnissen konzentrieren? / Was ist Heimat – ein künstlich Kreiertes oder zutiefst Gefühltes?

Die Vorträge werden in deutscher und englischer Sprache gehalten. Das aktuelle Programm mit den Abendveranstaltungen entnehmen Sie in Kürze www.translations-symposium.de Der Eintritt ist frei!
Aufgrund der begrenzten Platzkapazität empfehlen wir jedoch eine vorherige Anmeldung unter www.translations-symposium.de/

translations 02
Studiengang Kommunikationsdesign | Department of Communication Design
Fachhochschule Mainz | University of Applied Sciences
Holzstrasse 36, D-55116 Mainz | www.fh-mainz.de | www.designinmainz.de1
| www.translations-symposium.de2