28/03/2005
BUY ME
ALTERNATIVE CULTURE AND DOMS OF CAPITALISM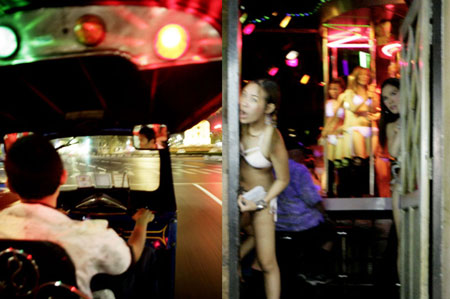 People have different reasons to come to Bangkok. In Khao San Rd you'll find travelers from all over the world, either on their way to further destinations or on their way home. First ones will buy all accessories needed to look like a real honest freak, the second ones will buy western labeled shirts and luxury articles.

In the center of Bangkok the business center attracts people from all over the world, glass palazzos, air-conditioned skyscrapers, bank- and insurance buildings, stylish coffees and interior-design-shops. Just every thing western.

And some people come to f*** The most popular place is Patpong. A place full of tristesse. Not even the loud music and the busy atmosphere can hide the dark side of Thailand's soul.