28/03/2005
Spiritual PLACES
Amulet Market, Thai Boxing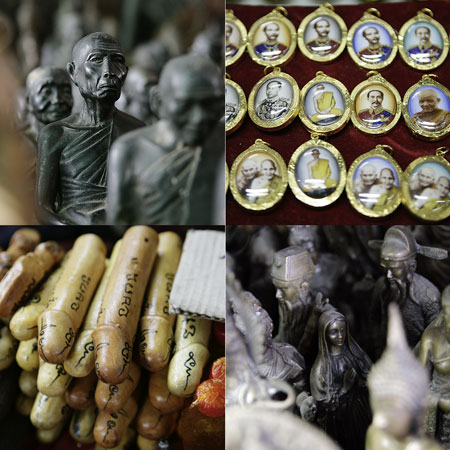 For the first time we feel what hot and humid means: walking and talking in slow-motion.
Walking to Phra Athit Road to see the Amulet Market: manly locals buy here statues, small buddhas, gri-gris and everything related to go spirituality. In-between all this mess small kitchens presenting a few specialties.
Bangkok is all about copy/paste. Its a tourist-trap-trail. Come here and you'll buy Lacoste, Ralf Lauren, Billabong, Boss... just everything that belongs to our western religion: identification by brands.
Back to tradition: two stadiums (Ratchadamnoen and Lumpini) present every night thai-boxing at its best: children and young men beat the hell out of them. It just hurts by looking at them. The crowd wakes up after the second round when starting to bet. Every hit in the body is acclaimed by a loud "ho".
To feel where your own body is fragile we went to a traditional thai-massage (not the one you are thinking of!). My masseuse made me discover my back and all the hidden places of pain! It still hurts today.